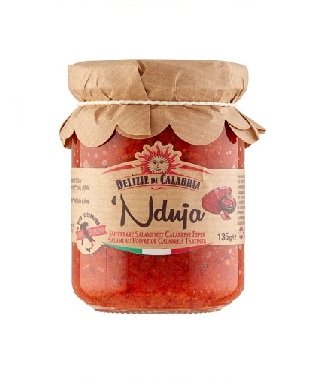 From Delizie di Calabria we offer regional products from Calabria, a region in the southest part of Italy where the sun is shining 300 days a year.
In this part of Italy, the chilli pepper has found its ideal habitat; therefor it is not a coincidence that it plays a special role in the local gastronomic culture.
The ingredients are grown, harvested and prepared according to an authentic recipe with great passion and care. Each jar is a piece of Calabria, each bite is a journey to a land rich in tradition and flavour.
The famous Nduja, whose name comes from the French word "andouille" meaning sausage, is a spicy spreadable soft salami prepared with dried Calabrese pepper.
Nduja is perfect for spreading on bread or toast, to spice pizza, for bruschetta, as a sauce for pasta or as an ingredient to prepare spicy omelettes.